Substance abuse and drug overdose have become too real for millions of people who either see it in their loved one or go through such an ordeal themselves. It's an issue that is not only affecting work productivity and relationships, but also causing serious health complications and even death. That is why we all need to talk about these things and learn from people who are struggling.
Alarming Statistics on Drug Overdose and Substance Abuse
The profile of drug use 15 years ago is too mild compared to the gravity of the numbers today. This section describes some disturbing facts and figures on drug abuse and overdose.
CDC Report on Drug Overdose Deaths in the U.S.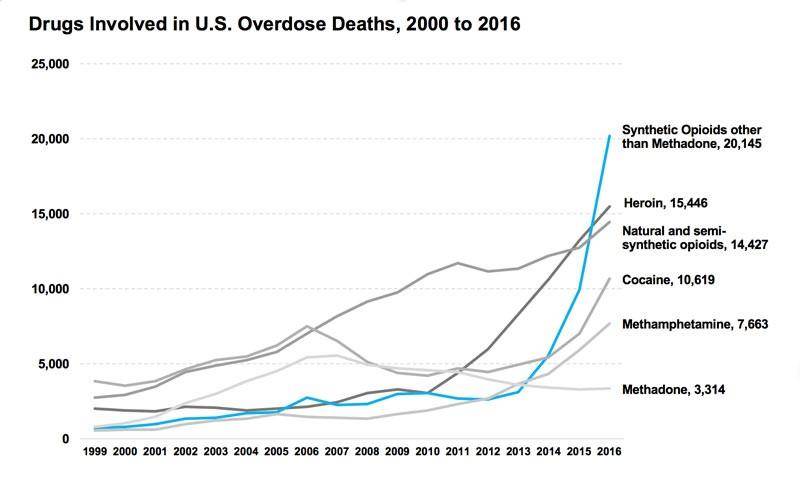 Source: https://www.drugabuse.gov/related-topics/trends-statistics/overdose-death-rates
According to the latest figures from the Centers for Disease Control and Prevention (as reported by the National Institute on Drug Abuse), drug overdose deaths in the U.S. have ballooned from less than 5,000 in 2000 to the following numbers in 2016:
Methamphetamine: 7,663
Cocaine: 10,619
Natural and semi-synthetic opioids: 14,427
Heroin: 15,446
Synthetic opioids (except methadone): 20,145
Report from United Nations Office on Drugs and Crime
On its World Drug Report in 2017, the United Nations Office on Drugs and Crime (UNODC) mentioned the following statistics:
Around 12 million people inject drugs.
At least 190,000 deaths are related to drug use, most of which are linked to opioid overdose.
Close to 500 new psychoactive substances were released on the market in 2015.
NIDA Report on Substance Abuse
The National Institute on Drug Abuse (NIDA) sponsors the annual Monitoring The Future Survey, conducted by the Institute for Social Research at the University of Michigan. The said survey asks students in Grades 8, 10, and 12 if they have used drugs and illicit substances at least once in their life.
Results for 2017 revealed the following results:
61.5% of 12th graders admitted to have taken alcohol at least once.
Prevalence of cocaine use in 12th graders is at 4.2%.
Marijuana use is confirmed in 37.1% of Grade 12 students and in 25.5% of Grade 10 students
16.5% of Grade 12 students admitted to have used prescription drugs.
Prevalence of amphetamine use is 9.2% in 12th graders and 8.2% in 10th
In addition, substance abuse is already costing the U.S. more than $740 billion (in the form of health care, crime-related expenditure, and low productivity at work).
These figures should be cause for alarm, because some of these numbers aren't going down. The reality is that many people – including teenagers – are going through substance abuse. If this issue isn't addressed immediately, it may progress to drug overdose and increase the risk of life-threatening health conditions.
With the growing epidemic on substance abuse, it's important to talk about these things on the real-world perspective. Aside from the facts and figures presented above, the following stories and addiction recovery quotes from real people should help us learn more about the seriousness of substance abuse.
100 Stories on Drug Overdose and Substance Abuse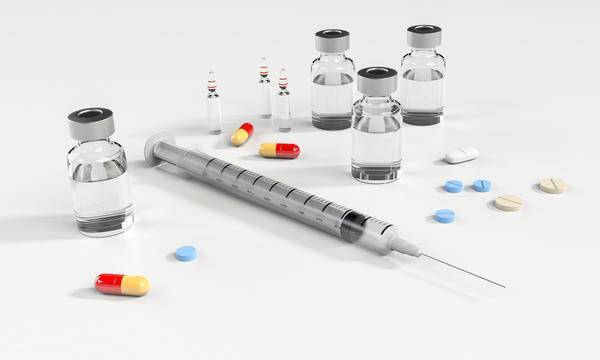 1. My Daughter Died From an Overdose. I'm Sharing Her Story to Help Others
This is about the story that a father shared regarding the struggles that his daughter had to go through. Cassey was a heroin addict and died just a few days after she was rushed to the hospital.
Casey's obituary went viral and has made other people step forward to share the painful ordeal that their respective families had to go through. And through this, it is with hope that people who might be undergoing the same struggles in life may be enlightened to seek help.
2. Video of dad telling son his mother died of heroin overdose goes viral
A father painfully tells his son about his mother's death due to heroin use. It was difficult enough to accept that a loved one is gone. But to let a little boy know that he has lost his mother is an unbearable feeling.
The video hopes to help addicts with children to seek help before it's too late. An addict may find relief with whatever burden they may be carrying for some time, but the pain that they would leave their children will remain in their hearts.
3. Mother shares story of son who died from overdose after starting to use drugs in junior high
A mother speaks out about the horrors of drug addiction that took her son's life. It started with a prescription drug that her son needed when he succumbed to a back injury. But after months of using Oxycontin, addiction to the drug kicked in, and Harris started shifting to a much cheaper drug, heroin.
Harris' parents discovered his journals that he wrote when he was still in rehab, and they were shocked to know that he started using drugs when he was 12 years old.
4. A mother tells son's story of heroin overdose to save others
Marijuana has become the "starter drug" for most drug addicts. What they think would be fun turned to be catastrophic. In this story, a mother shares how her son died due to heroin addiction. He has confessed to wanting to stop, but never knew how until it ended his life.
5. "I'm proud of her. She fought": Mom speaks out after former Kickapoo cheerleader overdoses
Oziah Gideon found her daughter dead inside her room just three days after going out of rehab. It is her hope to share her daughter's story to other people struggling with heroin addiction as well as other parents who are in the same predicament.
Sometimes, even if we think that we have given all the help that we can give, it may be too late to save a life. The addiction started from taking a prescription drug for a back injury, which later on turned into use of illegal substances. While it provided her daughter the same relief, it eventually caused her death.
6. After Her Daughter Died From A Drug Overdose, This Mom Wrote A Heartbreakingly Honest Obituary
Heroin addiction has been referred to as a disease in the society. The death of Kelsey has pushed her mother to let everyone know how much her daughter has struggled for so many years with her heroin addiction.
Going in and out of the rehab and making sure that she remains sober may have been a very difficult time for Kelsey. And because of her death, her mother would like to address to other parents how important it is to know about the lives of their own children. That way, they may be aware of the things that their kids are going through. The hope is that they can help and give enlightenment in order to avoid having to resort to drug use.
7. Guilford Mom Gets President's Attention With Story of Son's Overdose
A mother recalls how she started out as a high school standout hockey player, and later on become addicted to opioids. There was no stopping this mother from letting people know how heroin addiction is now considered as an epidemic.
She shared her story through national television so that she could get the attention of U.S. President Donald Trump. She was lucky indeed that Trump's tweet was retweeted several thousand more to help spread heroin addiction awareness.
8. My mother overdosed on my birthday 3 weeks ago
You expect to be receiving a lot of calls during your birthday, but this one call that Christina received was not the one that she expected. She was informed that her mother overdosed and has died.
She knew at her young age that there was something odd about her mother's behavior. Only when she was in freshman high school did her father finally tell her that her mother was a heroin addict and that same night, she was taken to a rehab. Her mother was struggling with the addiction for 30 years.
' 9. Tell my story' victim of heroin told mom just before overdosing
Casey, a heroin addict, died after struggling with her addiction. Her parents knew what she was going through and they were all out in helping their daughter. It was Casey's desire to let her story be shared so that everyone would know what a person with addiction is going through and how they could be helped and how addiction could be prevented.
People should be aware that addiction is not something that just happens. Being able to address the problem could certainly prevent a person from getting hooked on drugs.
10. After their children died of overdoses, these families chose to tell the truth
Families no longer see the reason to hide the truth from others. The truth that they share can help enlighten others to understand how drug addiction happens. Drug addiction is a disease that everyone should be aware of.
More than dealing with the addiction itself, people should realize that there are real stories behind the addiction that should be properly addressed. Otherwise, it will only lead to fatal results.
11. Three Moms Share Stories of Losing A Child To Heroin
Heartbroken moms share their stories about their children's battles against heroin addiction. The death of their children made them come together and realize each and every one's struggles during the fight against the addiction and after the death. It will never be easy to accept, but they all needed each other to brave this storm.
12. A father's story: How a 'really good kid' died of a heroin overdose
The cause of addiction is not very well understood. Therefore, parents should always be on the lookout for any changes in the behavior of their children, particularly when certain events happen in their lives that they may not approve of. In the case of Jessica, the divorce of her parents had a negative impact in her life, in which she found her solace with alcohol and drugs.
13. Stories from a record-breaking year of loss.
Heroin addiction has become an epidemic. Case in point: the drug overdose death in Philadelphia has reached 953 in the first nine months of 2017.
This article features horrific stories from family members who are facing the loss of their loved ones due to heroin addiction. The number of deaths related to heroin addiction has kept on increasing each day, and family members may not be able to bear the thought that this can happen to them as well.
14. Ryan's story: Family hopes their openness about Ryan's heroin overdose will help others
The family of the late Ryan Quinlan comes forward and shares the story behind his addiction that led to his untimely death. Ryan is a very ambitious person – he had so many hope and dreams. However, he became too anxious to reach his goals that lead him to his addiction.
The family is crying out for a better system in handling people with mental disorders and those who are hooked on drugs.
15. Losing a Child to a Drug Overdose
A mother shares her painful ordeal with drug addiction. Two of his three sons died due to a drug overdose. The loving mother as she had ever been, she never left by his sons' side whenever they needed her.
A few years after her sons' deaths, his husband died soon after. It was his husband's wish not to have a funeral after people have been talking about the cause of death of their two sons. His other son, Louie, luckily becomes one fine, young man, despite everything that has happened to their family.
By coming out with the story of her sons, she hopes to break the silence and erase the stigma of drug addiction.
16. Family shares heroin overdose story as Mississippi troopers get Narcan
After so many incidents of drug overdose, the Mississippi Department of Public Safety has announced that all law enforcement officers will be provided Narcan. Narcan is the drug used to counteract overdose cases. It is their hope that they can be able to save more lives by being more prepared should overdose situations arise.
17. 5 heroin stories for Overdose Awareness Day
Overdose Awareness Day lets people know not only about the drug overdose, but also the negative effects of drug addiction in general. Additionally, it aims to help the public understand the signs that may lead to addiction and some ways to prevent it. Family members whose lives have been affected by drug addiction gather on this special day to spread awareness by sharing their stories to teach people about drug addiction.
18. A Drug Cop. A Daughter On Opioids. One Family's Story Of Addiction.
A drug cop never realized that someone under his roof would be a victim of such situation. His daughter came to him to confess her addiction and he was ready to help her by sending her to a medical facility for rehabilitation. However, her daughter was denied and the case was considered not serious enough to cover his insurance.
His daughter's addiction worsened and he felt helpless. Informing the doctors that she was suicidal was his only way for her daughter to get treatment. She was sent behind bars and after she was released, she got back to her old ways and soon after, ended her life due to overdose.
19. TIME-Mic documentary follows couple's overdose nightmare to show the face of opioid epidemic
A husband and wife overdosed themselves with heroin inside a drugstore's bathroom and rode a bus. The husband was found sprawled backward on the bench of the bus while the wife was on her knees by the sidewalk. Someone took a video of the couple, which prompted TIME-Mic to produce a documentary about how the couple deals with their everyday lives with drug use and to investigate their issues on what led them to the said addiction.
20. The Heroin Diaries: Wife Of Overdose Victim Discovers Videos Chronicling His Struggle
A shocked wife discovered his husband's video diary documenting his last month's struggle with his addiction. Daniel was struggling with depression and anxiety. Instead of taking the usual step of going to the doctor, he skipped right to taking heroin.
Up until two weeks before his death, Daniel denied being an addict. And he reasons out that his use of the drug was his means of getting by.
21. Anthony: My Son – Heroin Addiction Memorial Story
It's such a harrowing experience for a father to see his son's death, particularly due to heroin addiction. The eulogy he read was more focused on relaying a message to those who might be struggling with addiction as well.
The eulogy was shared on Facebook and reached a girl named Abby, who confessed to Anthony's father that she too was struggling herself. She told how she wanted to stop but didn't know how, But, after some time of exchanging messages through Facebook, Abby finally decided to get clean.
22. Fed Up With Losing Their Kids To Drug Overdoses, Parents Share Their Stories
Parents are remorseful for the tragic deaths of their children due to abuse of heroin and other illicit substances. More often, the focus has been on the trade of illegal drugs. However, keeping our eyes on the more important matters should be initiated – to improve government policies regarding drug regulations and to implement a safer alternative to certain medical conditions to eliminate the use of addictive prescription drugs.
23. Deforest mother shares story of son who died of heroin overdose
A mother recalls how his son struggled with his bipolar disorder, which was diagnosed when he was still a child. As he grew up, his way of coping was by using heroin. He eventually got addicted to the drug, overdosed and died.
His son's death pushed her to step forward and help others have a better understanding of the kind of predicament that his son had. She hopes to help address the problems of some people who are likely to use drugs as their primary means to get by.
24. Man featured in heroin stories gets 3 years in prison for overdose death
A man admits to his crime of persuading other people from taking heroin, which eventually led to a lethal level that resulted in their death. He was remorseful for what he did, but the families of the overdose victims wanted him to suffer more than what the jury has decided on. Keding has gotten treatment for his addiction and shared his story to help others have a better understanding of drug addiction.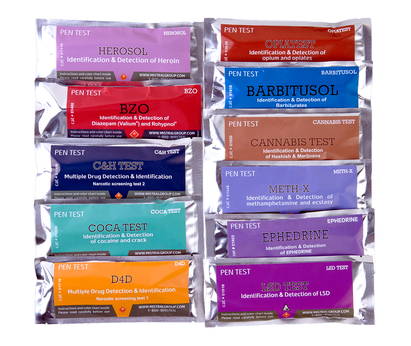 25. Mother hopes son's story of heroin overdose will save lives
The so-called "intense, cheap high" has led some people who are used to taking prescription drugs to switch to heroin. Surprisingly, the face of drug addiction does not look the same as it is now. Some drug users were great at what they do, loved by a lot of people. However, there is just something that they feel is lacking in their life that they end up using drugs to cope.
Some users have long been wanting to stop after realizing what it could do to them, but many users couldn't stop themselves. More often than not, before help even gets them, death ensues.
26. Will's Story: Where opioid abuse and the dark web intersect
No parent could ever accept the fact that their once happy and loving child would end his life due to a drug overdose. Drug users may no longer have other reasons to use drugs other than to enjoy doing it with friends.
Will started out with Adderall introduced to him in school, and then later on switched to other kinds of drugs that would give him the kind of "high" that he wanted. A parent knowing his dilemma on drug addiction reached out to him, to ensure that he gets past the terrible nightmare. However, despite all the efforts, the dark web has become all too convenient for him to get his own stash.
27. Mother shares story of son's heroin overdose
Ohio has been reported to have at least 5 deaths related to drug overdose every day. This is just one of the many stories of mothers who shared their experiences, including one about a son's early demise due to a drug overdose.
Christopher Powell's body was consumed by heroin overdose at the age of 24 years old. As early as 16 years old, Christopher felt like an outcast and went on taking drugs to somehow make himself feel like he belongs.
His mother is now all out in promoting the importance of drug addiction awareness. She is working on a book about her son's death, which she hopes she can share with students and to show support to fellow parents who might be in the same situation that she was.
28. Knoxville family shares son's story after he overdosed on heroin
An 18-year old student from Knoxville met his death two days before graduation. According to his mother, Reagan was smart, driven and had dreams of becoming a therapist someday. The addiction started when he met an accident that broke his wrist and needed surgery.
He has been prescribed with painkillers, and that was how he began using it more than what was recommended. He eventually shifted to heroin. Later, his source of heroin was discovered by law enforcers and was charged with homicide.
29. Ohio man shares heartbreaking story of zipping his own daughter into a bodybag after she overdosed on heroin on Christmas Eve
Christmas will never be the same for Tim Sherman as he recalls how much pain he felt knowing that his daughter died due to heroin overdose. More than a year of being clean after going to rehab, her daughter had a relapse, and this time took in lethal doses that ended her life.
Tim showed his support to his daughter all throughout recovery, but somehow things weren't enough. Placing her daughter in the body bag was such a horrendous feeling, but it was one promise he made that he kept.
30. Heroin in Arkansas: Local family shares story of losing 20-year-old son
Pills are often the gateway to heroin. A young man in Arkansas found his fateful death after a heroin overdose. Will Doerhoff was described by his parents as an outstanding student from a Catholic school who dreamed of becoming a lawyer to join the FBI.
When he began his freshman year at the University of Arkansas, life has never been the same. The changes in his behavior were very apparent. It reached a point where he needed to be treated due to an overdose and was put in rehab.
After treatment and therapy, they thought that Will has gotten back to his normal life since he found a job and also met a girl who would soon become his fiancée. But one morning, Will didn't show up to work, and was found dead due to a heroin overdose.
The Doerhoffs have teamed up with the DEA and started a foundation in Will's honor. This is the family's way of letting people understand how life has been living with someone with an addiction and to somehow inspire parents to be more vigilant in caring for their children.
31. Grieving Texas family shares story of loss, hoping to save others from addiction
One family in Texas has not even started to accept the death of one of the sons when a few months later, another son died due to a heroin overdose. The insurmountable pain that the family felt can never be imagined by others who may not have been afflicted with the same situation. Despite all these, the family released their story so that others may learn from it.
Drug addiction is such a dangerous epidemic that people should start to look for ways on how to prevent it. Gladly, the third son of the Freemans was able to overcome his heroin addiction, and they hope that this will also be the outcome of all other heroin addiction stories.
32. Bridgewater Parents Share Story Of Daughter's Heroin Overdose
The death of Jack and Laura's daughter has urged the couple to send out letters to Bridgewater parents informing them about what has happened to their daughter and encouraged others to speak up about their own experiences, particularly with drug addiction. The Luftmans was able to form a group of 400 members.
The letters that they received were forwarded to the Bridgewater-Raritan Regional School District to increase their awareness about the disease that is eating up high school children. Through this, the Luftmans hope that parents would be more aware of the signs of addiction so that they may be able to provide help to their children before it becomes too late.
33. Cheektowaga family shares overdose death story
It all started with taking painkillers when Danny met an accident in 2010. But after some time of taking the pills, he somehow ended up using heroin. The family knew about this and supported him to get to rehab. They continued to show their love and support until he completed drug court.
However, the relapse led him to use lethal doses of heroin that also affected several other people. This prompted the county leaders to issue a public health warning. Danny was found unconscious inside the bathroom due to a heroin overdose.
34. Sons lost to drugs: Parents share tales at forum
A free public forum hosted by Poughkeepsie Journal Media was attended by 400 people. People shared their experiences on the horrors of drug addiction and how it has tainted their lives forever, particularly after losing their loved ones.
The organization that Susan and Steve Salomone of Mahopac started (Drug Crisis in Our Backyard) aims to raise awareness on the addictive nature of heroin. Together, they are all out in spreading awareness of this society's disease and hopefully be able to reduce the number of people affected by drug addiction.
35. Heroin's heavy toll on Lehigh Valley families: Parents share their stories
Parents struggle to understand how their children have made themselves vulnerable to drug addiction. Despite having a happy family and very supportive parents, drugs somehow found their way to these children who have taken their lives at such a young age. Drug recovery is one of the events that parents rejoice about, but heartbreak ensues once they realized that behind that ardor to combat drug addiction, some of them go back to their habits and eventually meet their deaths.
' 36. Not who he was:' Family shares story of son's struggle with drugs
Three doses of Narcan wasn't much of a help to save Cord Tucker from death. Family members were in distraught after seeing him sprawled on the bathroom floor, with traces of heroin nearby his body.
He underwent counseling programs just to help him overcome the addiction. But somehow, it was not enough for him to totally turn his back away from his addiction. A drug screen was taken after his death, and results showed that he had taken a lethal dose of heroin laced with fentanyl.  
37. Billings family shares heartbreaking story of addiction in daughter's obituary
It wasn't all sunshine for Mary. She became addicted to opioids at a young age. Upon the family's discovery, they were all out in extending the help that she needed.
After recovery, it was thought that Mary would slowly crawl back to her normal life. But needless to say, she found her way back to her addiction instead.
At the funeral, the family not only wanted Mary to be remembered as the good-hearted child, but also shared the realities of drug addiction so that others may fully understand how to manage it and prevent it from causing another death.
38. Hooked on heroin: Fountain Hills family shares son's advice before he died
A mother speaks about how the family dealt with his son's heroin addiction and how she would have done differently to save him. It was painful to relive the moments of struggle. However, she feels that sharing his story will help others be enlightened and somehow find ways on how to better manage a loved one who may be in the same predicament.
Drug addiction is not something that one would have dreamed of. However, once you started using a drug or two, it rewires your brain into wanting it more.
Taking your loved one in and out of rehab may not be enough. A drug user may slip little by little each day until he reaches his untimely death.
39. Epidemic Proportions: Family shares story of heroin addiction
With the increase in heroin overdose in Indiana, law enforcers are not equipped with naloxone, a drug used to reverse an overdose. They believe that by being always prepared with this drug, they can somehow save more lives.
Families grieve over the loss of their loved ones due to a drug overdose. In some cases, they would have been saved. However, the drug to counteract the situation may not be readily available.
Families shared their stories on how their loved ones have struggled in fighting over their drug addiction until it ended their lives. They warned fellow parents about the signs of addiction so that they can save the lives of their own children.
40. After the loss of her teenage daughter to heroin, Frederick woman shares her story
Shannon Stanley lost her daughter to a heroin overdose. During the course of her daughter's struggle with addiction, Shannon was afraid to talk about it. She worried more about what other people might think about her and her family.
After her daughter's death, Shannon needed to come out and seek the help of a support group where she can free herself from the guilt of not being vocal about the problem that her daughter went through. A lot of parents are suffering with the same ordeal, and sharing her story would somehow help them face the problem and find better solutions before it gets too late.
41. Mom shares story of son's overdose in hopes of helping others
A mother only wishes what's best for kids, and that was exactly what Mary Randol wanted for her son. But things have changed and his son was never the same again.
His use of heroin lead to sepsis that affected his brain, heart, and liver. His body could no longer fight against the effects of his heroin overdose, which eventually led to his death. His mother promised that his son's story would be her instrument in reaching out to others, to make more people learn and understand what it is like to be living with someone who struggles with drug addiction.
42. Losing the battle: father shares story of young daughter who died from heroin and fentanyl
Heroin alone can lead to a vast number of medical conditions that could eventually result to the sudden death of an individual. In this article, what made it worse was when his daughter took heroin along with fentanyl, an extremely lethal concoction of drugs. Just two days outside of rehab, her daughter was found dead due to overdose.
Blementhal hopes that extra funding can be achieved so that proper medical attention can be given to people who are suffering from drug addiction.
43. Ohio mom, children pose with dead father to warn about dangers of drug addiction
To accept the death of a loved one is never too easy. A young mother from Ohio posed with his children beside an open casket of her dead husband who died of heroin overdose. It was her way of letting people know that drug addiction chooses no one, that it can happen to the best of us.
She never realized that a single painkiller to alleviate a toothache would bring her husband back to his old ways. Ultimately, this started his addiction again. She recalls him telling her that he could handle it. But just a few days later, he met his untimely demise.
44. Parents Share Stories of their Child's Drug Overdose in Effort to Save Other Lives
It is now becoming a trend how mothers would post photographs of their children laying in bed with tubes connected to them – a picture of a heroin overdose. The mothers' grief over what happened to their children could be used as a tool to let others know the realities of drug addiction. The photos hope to encourage current day drug users to ultimately seek help and eventually be saved.
45. From athletes to addicts: Parents share stories of how they lost their children
Sports Illustrated magazine interviewed family members of local athletes to know more about the story behind their loved ones. It was not the usual interviews pertaining to sports, but about how these young athletes have become hooked on drugs.
Some athletes use performance drugs to improve their game stats. However, long-term use of the drugs caught up with some of them, which resulted in their early deaths. Some started with painkillers that were used after a surgery and similarly ended up dying early after using heroin.
46. Ware mother who lost child to heroin overdose shares story to help others
Sherry Bateman recalls how she noticed her daughter change in terms of behavior. When she confronted her, her daughter admitted to using drugs. They sought help and was in rehab for three months.
After going out of rehab, her daughter left their home and she thought that it was a good way to have a fresh start. When her daughter returned home, she thought that everything was getting better because she went out again with friends. Little did she know, it was the last time she was ever going to see her daughter, because the latter overdosed on heroin.
47. Family shares pain of teen's death from heroin overdose to help others
A father shares the story of their family's grief over the loss of her daughter. After struggling through her addiction, Kevin Simmers did everything that he can just to save his daughter.
When his daughter was sent to jail because of heroin possession, she was given shots to manage her cravings. The shots needed validation from the insurance company before it was given to her. For her third shot, the insurance company did not respond soon enough. By the time that they did, Brooke overdosed.
48. Why This Mom Shared A Poem About Heroin Addiction In Her Daughter's Obituary
A mom discovers a poem written by her daughter who died of heroin overdose. She wanted to share with people what her daughter has written so that they may somehow have a better understanding of how it is to become a heroin addict.
The poem talks about the thoughts of a drug addict and the kind of journey that she went through. The pain of not being able to shout for help only turned her more towards the addiction. She knew what she has gotten herself into but didn't know how to stop.
49. Jessica Gentile's story: After fatal heroin OD, Auburn woman's family spreads awareness about Good Samaritan Law
It was unlikely for Jessica Gentile to be associated with any type of drug. She vehemently stated that she would never ever go to such action, but it was too late for her mother to save her. She was found dead a day after she went to her friend's house.
The signs were there, but her mother doubted that Jessica would ever do such thing. Police later on found out that her friend Matthew was responsible for her death – he gave her heroin that night and eventually led to her death.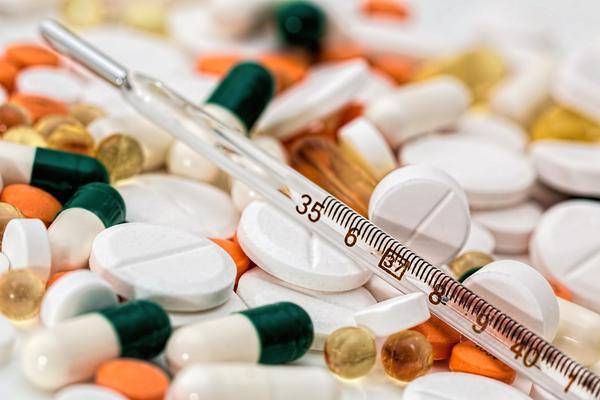 50. Police hope viral video of mother's overdose in Family Dollar sheds light on opioid epidemic
The video shows a two-year-old girl who went to a store with her mother who suddenly fell on the floor unconscious. It was later on found out that it was caused by opioid overdose.
People have different views regarding the said video. It is truly a frightful sight how this could instantly happen to anyone who may be into drug addiction.
51. Mothers share stories of losing their children to opioid overdose
Due to a mass opioid overdose that happened in Knox County that resulted in the death of at least 173 people, mothers of the victims shared each of their stories. It is also their intention that others may be able to realize any problems that the children may have, which may require any parent's help before it becomes too late.
The pain of going through the death of a child is something that would linger in their hearts and minds forever. Their only hope to help stop this is to spread awareness about the dangers of opioid use.
52. Dozens of middle-age women die from opioid addiction: One mother's story
There had been reports that there is an increase in the number of deaths of middle-aged women related to medical-assisted addiction. Austin Glass' mother was diagnosed with a stage 3-4 breast cancer and was prescribed with opioids to alleviate the pain. Unfortunately, after months of taking the said drugs, it has made her mother dependent, leading her to the addiction and her eventual death.
53. The final overdose: 3 stories of loss and frustration with addiction
This story is about three people who sought help for their loved ones who were suffering from drug addiction, but failed to do so because they feel that the system was not good enough to provide the necessary help needed. They have expressed their frustration and disappointment for taking up so much of their time fighting for a treatment for their loved ones who all passed away without receiving any kind of treatment.
54. Peter's Story: New Jersey Funeral Director Sees More Overdose Deaths Than Ever
A funeral owner laments with the bereaved families of overdose victims. He stated how it was very uncommon in the 1980s for him to receive dead bodies linked to an overdose. But in the past three years, the numbers escalated to about 3-4 bodies a month.
He knew the story behind each of the death that were caused by an overdose and yet their death certificates never showed any indications about the realities of the deaths. He persuades everyone to come out and share their real stories to help them get through the pain and for others to have a better understanding of how it has been for the family and for the overdose victim.